Yes sir, there's something empowering about a blinking cursor. I say that as a writer, but the same is true of a blank canvas if one is a painter or an illustrator. There is even magic in a blank golf scorecard. All three – and more examples that I'm sure readers can come up with – represent potential. The beginning of anything is an exciting time, as it heralds a new chapter. It's a chance to create a reality that matches the brilliance in your mind.
The Georgia National Guard's maintenance office is called "the CSMS." That stands for Combined Support Maintenance Shop – North. Inside the CSMS, armaments, night vision goggles and other equipment is stored and repaired, radios are calibrated, and other electronic devices are made operational. Late last year, the building was renovated for the first time in more than 20 years. As some of these "before" photos (below) show, the building had become a tad cluttered. Moving out the old furniture was a welcome initial step.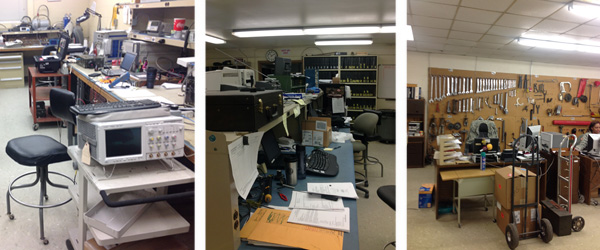 "The old furniture we had in there served us well," said Chief Warrant Officer II Drew Roberts. "It had been in there a long time. Over the years, it had been utilized in any number of ways. Look, we're a maintenance facility. We're going to do things to equipment to satisfy our project needs. Sometimes, that can be rather unconventional. We needed the refresh."
---
Putting the Military Storage Plan in Motion
Patterson Pope Sales Representative Steve Goldsmith was happy to help. He had worked with the Georgia National Guard on a number of previous projects, including the installation of military lockers and parachute storage. The strong relationship made both parties confident that Patterson Pope could help maximize the space in the newly renovated CSMS.
As you might well imagine, utilizing a space for more than two decades can lead to a rather significant accumulation of "stuff." Machine parts, cords, tools of various sizes – they were all taking up valuable space.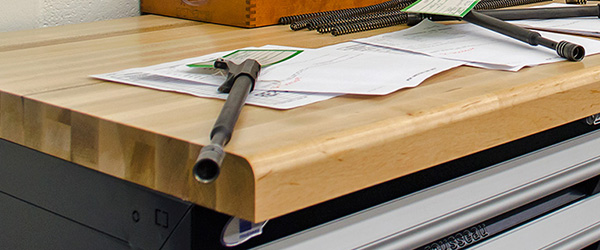 "In addition to maximizing the space they had, they wanted to upgrade their individual workstations," said Goldsmith. "It was important, even prior to planning a solution, to talk with the folks who were actually going to use the new furniture and military storage items we eventually put in. It doesn't make sense to impose solutions. The client's problem dictates the solution. It's a process."
"It was a blank canvas," added Roberts. "Steve was very interested in what we wanted. His willingness to listen was huge. I think it really helped the whole experience."
"A huge help to the success of this project was a Facetime meeting during which we saw the whole place. I saw what they had, the pros and cons with what they had, and was able to see what they wanted and why," added Kile Garrison, a planner at Patterson Pope who helped design the space.
Patterson Pope worked on military storage solutions for the calibration area and calibration storage, Electronics and the Electronics work room, a supply storage room, armaments and armament storage, as well as an Optics area. In the end, it was seven areas altogether, totaling a little more than 4,200 square feet.
"It turned out really well," said Goldsmith. "There were so many areas. It was fun – and challenging – to be able to come up with solutions that really made a difference."
---
A sampling of the work done includes…
TOOL STORAGE
ELECTRONICS/STORAGE
Rousseau worktables
(In additional to these tables having electrostatic discharge, most of them had either power- on easy-access surge protectors or flush-mounted electrical outlets built into the tabletops. Patterson Pope did this using Electrical Cable Assemblies outlets and Rousseau Tops with Rousseau cabinets underneath.)
Custom-made cabinets by a local cabinet maker
Binder shelving with SSC File Storage Drawers
Spacesaver lockers for classified items
CALIBRATION/STORAGE
ARMAMENT/STORAGE
HD Rousseau carts and workstations
SSC shelving for storage on desktops
---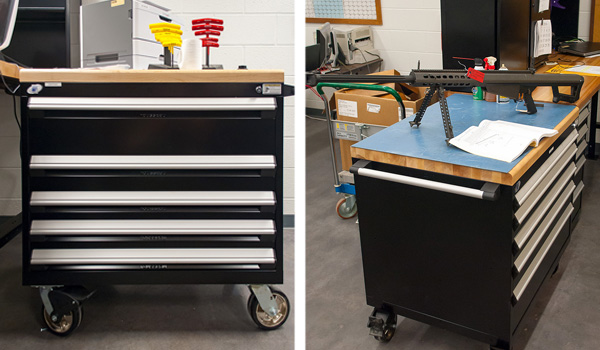 Goldsmith recalls two particular solutions of which he's especially proud. The first was putting incredibly strong wooden tops on the work tables in Armaments. The strong surfaces allow for a weapon as heavy as a 50-caliber mount to be placed directly onto the work table, making the weapon easier to cock and clean. The other special accomplishment was the creation of a new cart – with its own product number! – designed specifically to fit under the desks of the technicians in Electronics.
"Steve and the entire Patterson Pope team were really able to help us get exactly what we needed," said Roberts. "He had a willingness to experiment and do things a little differently. It was fun to be involved in that."
---
When Creativity Earns Its Stripes
If there's any organization that knows the value of order, it's the military. In the case of this Georgia National Guard installation, a new look lent a new feel and a new attitude, as well.
"Let's take my section as an example," said Roberts. "In my section, the only place my guys had to work before was this really big table in the center of the room. Now, with these rolling carts and lockable personal drawers, it creates a more efficient work environment. That more efficient environment creates a better sense of ownership and accomplishment."
A new space. A cleaner space. Order. Execution. Smooth operation. These things have added another layer of excellence to an already cohesive, accomplished team.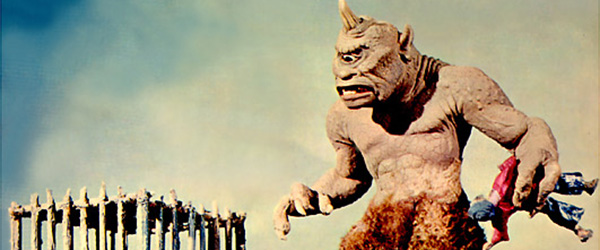 Yes, there's a lot of appeal in blank slates. As a kid, I was fascinated with Ray Harryhausen. I remember reading about how some of his model monsters were fashioned out of clay. Naturally believing it completely within the realm of possibility that I could sculpt a fantastic creature myself, I spent some of my allowance money on a 10"x5"x5" block of red clay. The plan was to carve away everything that wasn't a mythical beast until I was left with… well… magnificence.
That block of red clay sat on a bookshelf for months. I was afraid to take it out of its wrapping and begin because, in my head, the sculpture that hid inside it was perfect. I didn't want to start carving it and come to the realization that I was no sculptor. That would have just been a waste of allowance. Remaining untouched, though, it came to represent the perfection that lay in aspiration. While it never turned into a sculpture, it did constantly inspire me to dream. That… and it made a fine bookend.
The work done at the Georgia Army National Guard's CSMS is a prime example of the positive changes that can happen when that inspiration seeded by a blank slate is given the room – and the impetus – to morph into a job well done.
For more information on this project, check out the Success Story.
---