Museums only have so much space to present their many great artifacts, art, and interactive displays to the public. Plus, to remain fresh and relevant, they often cycle through their collections to keep people coming back. Organized and accessible museum storage is essential to long-term success.
Maximizing museum storage is a challenge everywhere — from the Louvre, the world's most popular museum, attracting 8.1 million visitors in 2017, to the World's Smallest Museum in a 134-foot shed in Superior, Arizona.
"On average, only three to five percent of any museum's permanent collection can be displayed in public gallery spaces at any given time. This leaves the majority of a museum's collection in storage," according to the Western Museums Association.
Plus, museum collections are constantly growing. Even with the move at many museums to digitization, there is still a great need for adaptable, customized museum storage. After all the hundreds to millions of items in storage need to be accessible:
Curators need access to stored collections to determine what should be showed next, what might be loaned where, and come up with exhibition ideas.
Researchers and educators may request objects in for study and teaching purposes.
Donors and museum members might be treated to behind-the-scenes storage tours.
Restorers need ongoing access to items in storage to check their conservation status.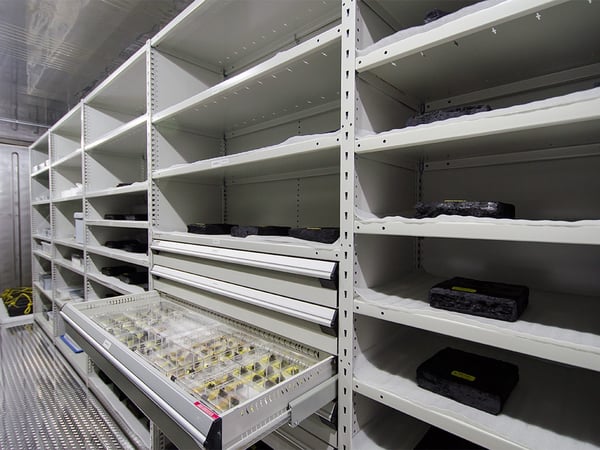 While many museum employees are focused on maximizing the display space the public enjoys, there are many who focus their efforts on maximizing floor space behind the scenes for storage. Adaptable, customized products such as mobile carriages, bulk racks, suspension glides with shelves or drawers, and closed cabinets with trays can make a big difference.
The Filson Historic Society in Louisville, Kentucky, had been storing items stacked for decades in its historic Ferguson Mansion home. By purchasing a parking lot adjacent to the property, the society was able to build a new 19,000 square foot building for its more than 10,000 items as well as books, documents and other treasures in storage. The new storage solutions included:
"Being able to come into the area with new shelving – from day one – has allowed us to place everything exactly where we want it to be. And, we have room to grow." — Jim Holmberg, Curator of Collections Filson Historical Society
Emory University's Michael C. Carlos Museum has a small campus space to store works that are regularly pulled for teaching purposes or by curators. The rest of the art collection, as much as two-thirds, is consistently stored off site. That's where adjustable, customizable solutions helped make a difference:
High-density mobile storage
Pull-out drawers.
The Delta Air Transport Heritage Museum sits in a hangar built in the 1940s. Despite the sprawling size of the museum — over 68,000 square feet — the museum archive only had 4,000 feet of that space for its uses. With new items coming in daily, and the need for space fast outpacing available storage, the museum had a problem. "To a certain extent, we weren't even sure of exactly what we had," said Archives Associate Tina Seetoo.
In designing storage that best suited the space, the museum added:
An 11-range mechanical-assist high-density storage system with open shelving
Closed door storage for historic airline clothing, including uniforms, hats, purses and shoes
Textile racks

for banners and flags
Cantilever shelving

for the museum's sizable book collection.
For many years historical treasures raised from the Civil War-era submarine H.L. Hunley were stored in a Clemson University lab. Yet humidity, high temperatures, and a temperamental HVAC system were jeopardizing preservation efforts. Purchasing a pair of refurbished, 40-foot-long intermodal, refrigerated shipping containers served to secure and protect the artifacts:
One container holding organic material has museum cabinets, reinforced shelving, pull-out drawers and a flat worktop
Rousseau Spider Mini-Racking, reinforced shelving and modular heavy-duty drawers were put to use in the second container storing heavier, metal objects such as ballast blocks, hatches, and pumps.