We are already through March (what!?) and where I am from, that only means one thing: College hoops. I think I take the term March Madness more literally – I am not much of a basketball watcher. Sure, I played for a few years when I was younger until I realized I wasn't ever going to grow past five feet. What a dream crusher. Really I just cannot handle the constant squeaking basketball shoes for two hours, the lets-foul-everyone-near-the-end-of-the-game strategy (does that ever work?), and of course the inevitable Oscar-Winning flop.
All year round there is some kind of major sports event going on and always gets me thinking: how are they storing their gear? This time of year, we get all sorts of opportunities trickling in for sports equipment storage. Baseball, football, basketball – you name it. Hands down, these are some of the most fun and challenging types of systems to plan, and I say bring 'em on!
I recently had the chance to plan a high-density mobile shelving system for football equipment storage, and I love when these come through. The way a planner's mind is trained to think is to treat every project as a puzzle, and these opportunities give us the freedom to really roll up our sleeves and a chance to really show our creativity. The way I choose to add my own personal touch to drawings is to add a custom graphics sample featuring the team logo. Not only do they always end up looking fantastic, but many are used as marketing and recruiting tools – a game-changer, if you will.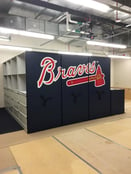 Check out this home run for the Atlanta Braves. They decided to add their team logo to the panels all along the front of the system, something that was presented to them as an option in the very early stages of proposals. I'd like to think my trademark rendering influenced the final decision, but that's beside the point. And take a look at some of these other systems with full-blown graphic designs! These final touches really welcome your new storage system to their new home in the locker room…an official member of the team!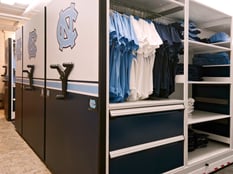 In spirit of the theme and being a North Carolinian, I feel it only appropriate to also include a throwback graphic or two to show my support for the number one team in the Atlantic Coast Conference, the University of North Carolina. I know I said I wasn't that into the whole basketball thing, but come on – I like their uniforms, don't judge me. Not to mention they look pretty awesome, hanging neatly and organized in that HD system – just saying.