The multi-family development market continues to grow. After considering the appeal of multifamily construction, this article addresses ways to make the most of storage in multi-family housing design. After all, when there is high supply, you're going to need to do all you can to make your development stand out to buyers or renters.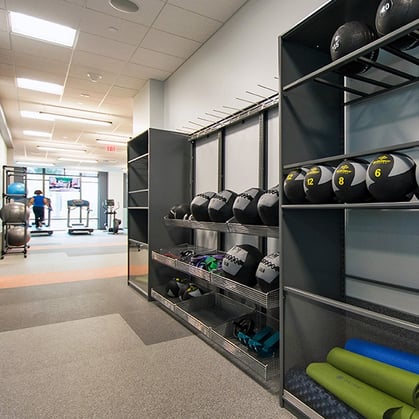 Freddie Mac's Multifamily 2019 Outlook anticipates continued, yet more modest, growth compared to recent years. While the market remains strong overall, some markets and submarkets will show weaknesses, the agency suggested. Its top ten metro markets for multifamily development included Florida's Tampa, Jacksonville, Orlando, West Palm Beach, Ft. Lauderdale as well as Seattle, Houston, Colorado Springs, and California's San Francisco and Oakland.
The overall health can be attributed to:
Low unemployment particularly among those 20-34, who are more likely to live in multifamily communities
The cost of owning a home has increased even more than the cost of renting (14.1% increase to own versus 4.4% in renting)
Robust demand due to demographic and lifestyle preferences
Freddie Mac also noted an increase in the number of multifamily construction starts. That means more buildings vying for the same tenant population. The agency's report suggested this "high level of new supply had some market participants worried that vacancy rates would increase drastically."
One way to differentiate is in the multifamily housing design, in particular with storage. Real Estate is at a premium for multifamily tenants. The following high rise and multi-family oriented storage solutions can help.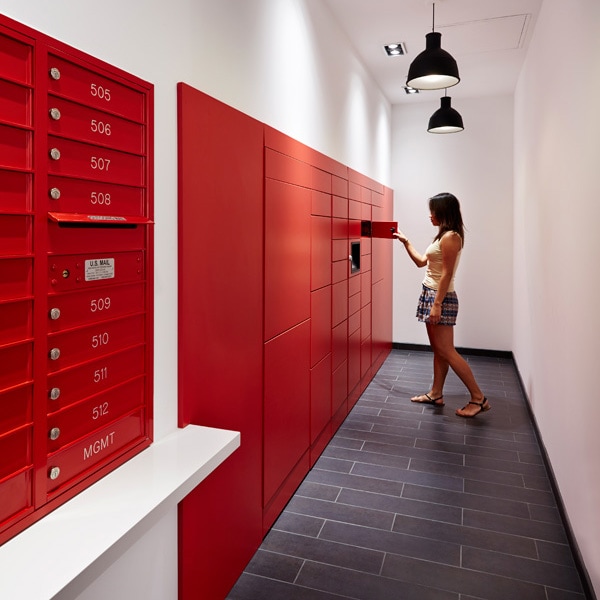 Storage in Multi-Family Developments
One multifamily amenity many developers are offering is improved storage. In a 2017 Multifamily Design + Construction magazine survey 62.4% of industry respondents had provided additional storage space or lockers outside the living units. Let's talk first about the locker options available today for multifamily developments.
In this age of online shopping and on-demand delivery, secure storage for valuable packages provides another selling point. Electronic parcel lockers can be a huge differentiator. These smart locker systems eliminate the need to manually log, store and retrieve packages for residents. Instead, incoming shipments are stored in a parcel locker using a secure procedure and residents are notified by text or email that there's a package ready for pickup. Whenever they get back to your building, they can access the locker and retrieve their packages using a secure, unique authentication code or PIN number.
Save your residents from long waits in a post office or worrying about the safety of their packages in a common mail room with smart lockers available 24/7.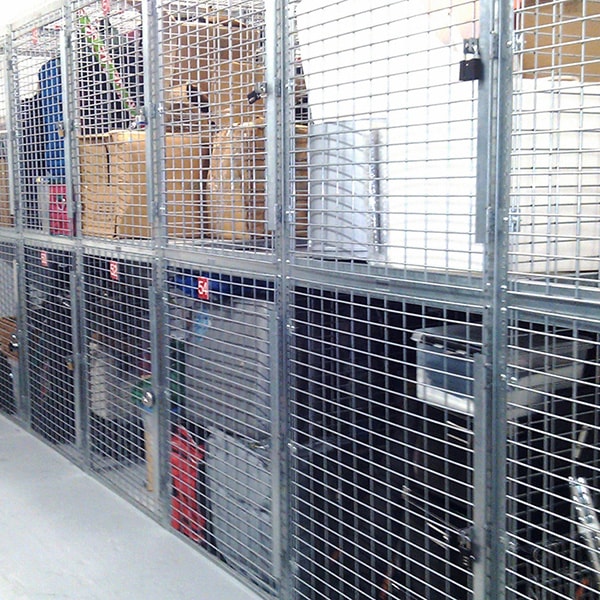 Lockers today are durable with heavy-duty construction to ensure a long-term solution. Modular and reconfigurable to adapt to changing needs, these lockers can be customized to meet security, visibility, breathability or durability concerns.
Residents and tenants could also enjoy taking advantage of personal storage lockers in other common spaces of the building. Strong, durable lockers can help the multifamily building designer make the best use of available space. You might put lockers:
In the laundry room so your tenants can keep all their fabric softener and detergent where it's needed
Near the pool area, fire pit, or climbing wall
In a fitness center where you can also save space with

FrameWRX

four-post shelving for equipment storage
In the basement to offer a more upscale look than the traditional storage cages
Not that we have anything against storage cages. Those are an obvious solution in multi-family developments too. Free-standing wire enclosures can be a good way to help residents protect their stuff while freeing up valuable space in their apartments.
---
Making Storage Functional
Keep in mind that millennials aren't the only people moving into multifamily housing today. Boomers also are downsizing. But, when they choose to move to multifamily developments, they're looking also for somewhere to put a lifetime of belongings.
Functional storage inside the apartment, condo or student housing can be enhanced with innovative design solutions around the property too. With the right storage solutions built into the multifamily design, it's easier to accommodate any generation's desire for open, inviting spaces along with secure places to put their stuff.
Patterson Pope's experts can help you make the most of any space in your multi-family development. Whether its reimagining existing space or providing storage insight for new construction, we have the customizable and configurable solutions you need. Contact us today!