Industrial space design has its own priorities. These are areas that are going to see a lot of traffic and need to be flexible and functional enough to withstand the day-to-day of manufacturing or other industrial activities. Optimizing storage is a key component of industrial design.
You may be looking to purchase or rent more industrial space for your business. That suggests you are growing, and that's good. But it doesn't make the high costs associated with expanding into more industrial space any more attractive. Real estate costs are growing, whether it's for the lumber, steel, or acquisition of the new space itself. Plus, finding industrial space can be challenging as inventory is tight in many markets with businesses responding to 2020's pandemic by Expanding To E-commerce Distribution.
We've written recently about the many ways you can optimize existing warehouse spaces, but doing more with the footprint of a new industrial space also makes good business sense.
Why invest in a 50,000-square-foot building when you could build a 20,000-square-foot building with the same space availability? Optimizing the overall space with the right storage solutions can help cut costs for:
Rent

Triple Net Lease

(Real estate taxes, building insurance, maintenance)

Utilities

Property and liability insurance

Taxes
Designing your industrial space to maximize the overall space, from the outset, can help your business' bottom line. There are many options to optimize your industrial storage footprint.
Industrial Space Design & Cool Storage
Businesses benefit from doing more with less, but you need to be strategic about how you do this. With expert insights into the design of your new industrial space, you can take the blank canvas of that warehouse or factory floor and create a space-saving masterpiece.
With an ActivRAC Solution, the business can double its storage capacity in the same amount of space. The ActivRAC Industrial Mobile Shelving System is built for warehouses and other industrial spaces needing heavy-duty storage. By arranging stationary shelving on carriages that move side-to-side (thanks to a wheels and rail system), ActivRAC makes much more efficient use of the warehouse space.
Don't waste space on multiple, static shelves in space-consuming aisles when mobile racks can create up to 100% more space in the same footprint. Plus, freeing up valuable floor space makes a difference to:
Business profits — put in a production line or do other value-add activities in the saved space

Employee productivity — time spent accessing materials and supplies is cut with optimized storage kept in a more compact footprint

Warehouse efficiency — consolidating supply materials and strategically storing inventory improves overall organization
ActivRAC storage systems can also endure extreme temperatures. In Suwanee, Georgia, Web Industries' Warehouse stores carbon fiber composites in temperatures of -10 degrees F. Adding compact shelving to that environment was daunting. It had not been done before, but that didn't stop us from developing an innovative system to add enhanced functionality — even in the freezer.

Industrial Space Design Goes Vertical
Going vertical is another way to double storage space capacity. Instead of having to get more land and build bigger, the business can install either Vertical Lifts or mezzanines.
The Hänel Lean-Lift® increases space optimization while also creating more picking space and saving time. This high-tech system for storage organization and materials handling enables a Much More Efficient Workflow. Unlike high bay or mini-load systems, the Lean-Lift stores your products or parts in height-optimized positions to maximize the use of a minimal footprint.
The energy-efficient system also saves employees from the physical strain of many industrial spaces by bringing the requested items automatically to the access area — in seconds — and delivering them at the optimum ergonomic height. This same system can be used as stand-alone inventory management system or communicate with your own data processing systems to keep supply chain insights up-to-date. Hänel PictureControl even takes container photos each time a pick or put operation is performed to provide photographic information of inventory changes.

Another way to go vertical in the same footprint? Build a Mezzanine. These structural steel platforms are customized to fit your application and space. These engineered floor decking systems expand the possibilities for storage optimization in a variety of environments.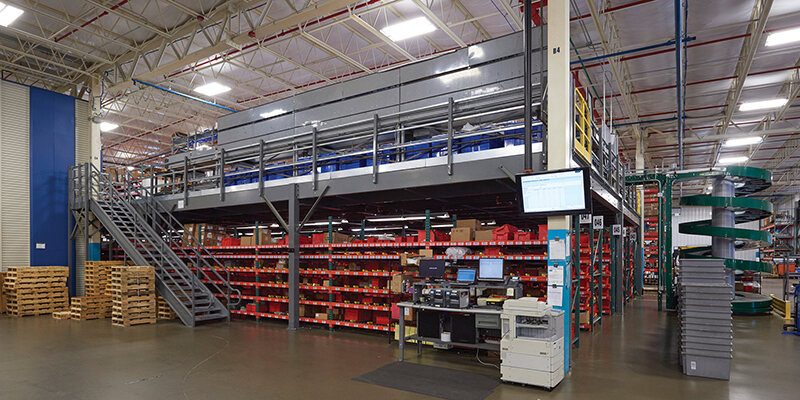 Mezzanines are typically built to withstand the movement and vibration of high-speed conveyors. The wide-span design also helps to increase visibility, functionality and safety for both your workers and your equipment.
Using the mezzanine as an industrial catwalk or equipment platform also helps the business to not only maximize space but also boost safety and productivity on the production floor. Designed to integrate seamlessly with existing operations, these mezzanines can provide secure passageways over machinery for necessary maintenance too.
Make the Most of Industrial Space
Industrial space designers know they face unique challenges. Optimizing the space is just one of many priorities. High-density mobile storage, vertical lifts and mezzanines can all make a difference. Consult with one of our experienced storage solution professionals to make proactive decisions when determining how to make the most of your warehouse footprint.