Over the past few years, we have seen an interesting shift in the way our storage products are used – especially in acute care facilities. In the past, hospital storage consisted of tons of paper records, radiology films and supplies in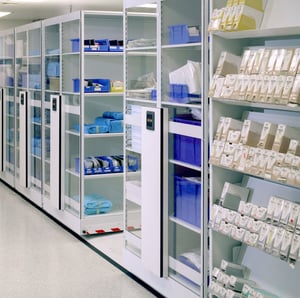 our high density mobile shelving systems. Radiology made the shift first, going completely digital. Then medical records started to shift and the EMR (Electronic Medical Record) became a thing of today. So, those departments are no longer storing files and films. At the same time, hospitals began trying to save money by managing supplies more closely. There is a fine balance that you have to meet in the supply world – some systems refer to them as par levels. You want to make sure that supply rooms are adequately stocked so that nurses can find the supplies they need stat. You also want to make sure that you don't have too much stock on hand – risking spoilage of items and loss of money. So, not only do you have a bunch of supplies that you have to store in rooms all over your facility, but you want to minimize this space – because it is not bringing the hospital any revenue. Patient rooms, exam rooms, operating rooms (the space where stuff happens) that is where you generate revenue.
Paging Patterson Pope. We provide the kinds of hospital storage equipment that will maximize the space used for storing stuff – condensing the space down to a smaller footprint and making it easier for nurses to find what they are looking for. We get it. We know what you're storing and how to best store it for decreased retrieval times and increased par levels. FrameWRX bin storage shelving, which you will find in supply rooms all over the hospital, is used because it's flexible. You don't need tools to "re-tool" it – it maximizes your storage space and it's durable. Speaking of storage space, FrameWRX helps save it – about a 35% square footage savings over wire shelving. Those high density mobile shelving systems that we used to sell for radiology and medical records have found new homes too in the sterile processing department, pharmacies, labs – any bulk storage areas.
Change is good. We always try to do things better and more efficiently. We can help you through your hospital storage changes. If you are working on a renovation or new construction of an acute care facility – contact us. You will be glad that you consulted with the stuff experts – I promise.