New trends in K-12 facility design are creating fresh challenges for education storage. Don't let common storage issues slow down learning. Innovative thinking can help you come up with the unique solutions needed to accommodate all of the stuff students and teachers need to access, organize and secure.
The storage needs of different student populations will vary by age and education level. The kindergartner's crafts and the high school senior's chemistry text books will be stored differently. Nevertheless, hands-on learning is a common expectation across the curriculum for all ages. This new focus shifts storage system requirements:
Instead of storing paper and books, you need to provide a place to put in-progress project work
More lab work means more equipment to stow securely
Increased group work demands more space efficient, collaborative spaces
Another shift in facility design is to move away from a single, home classroom. Many schools are asking teachers to share a flexible suite of rooms designed to encourage more co-working. This decision, though, can prompt some teachers to feel stressed about where to find efficient storage for their class materials.
Classrooms too are becoming more flexible spaces. Learning commons are replacing the one-stop classroom. Big entry ways open into common areas. Recognizing the need for more daylight, bigger banks of windows are cutting into the previously available wall space.
Storage solution: Support collaborative spaces and flexible classroom design with movable walls. Our Genius and Lightline glass, movable walls allow more light into the classrooms while offering agility and noise reduction.
While rethinking what a wall looks like, you might also reconsider cubbies. Sure, they're common in elementary school classrooms. But the many different types of cubby-style lockers can be useful in other settings too. For instance, a cubby bench is a great addition to a reading area in an English classroom or listening area in a Music Room.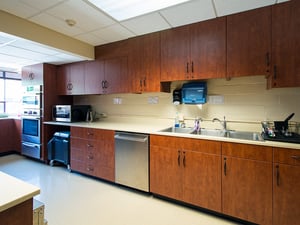 Science labs, meanwhile, are a common locale for hands-on learning. Lab equipment and chemicals need to be stored safely to protect students from potential dangers. Stainless steel, powder-coated steel and laminate modular casework and cabinetry is a great solution for safe, lockable storage.
Technology in Schools Storage Solutions
Students are also demanding more integration of technology. Students may be reading fewer actual, hardbound text books in favor of online access, but there are new needs to consider. Where can students safely secure their laptops and personal devices? What about ensuring these electronics have power?
Storage solution: Acknowledging even children as young as elementary school aged have smartphones today, manufacturers are adding the option of installing USB charging ports along and electrical outlets. Like the students they serve, lockers are getting smarter!
Carts can be useful for storing just about anything a school needs including laptops, art supplies, books and musical instruments. Mobile and maneuverable carts made of heavy-duty steel, finished with powder-coat paint, and sold with coordinating wheels and bumpers, are sturdy with a refined appearance.
---
Education Challenge Meets Storage Solution
At the same time, students haven't stopped wearing coats or carrying book bags. In fact, there's a movement in some schools away from locker usage in favor of students doubling as pack mules by carrying everything with them all day. But, where can all this stuff be put out of the way during classroom learning?
Storage solution: If students aren't using a single, assigned locker for an entire year or semester any longer, day-use lockers may be a better option. These small lockers are great for secure, yet temporary storage of student or teacher stuff.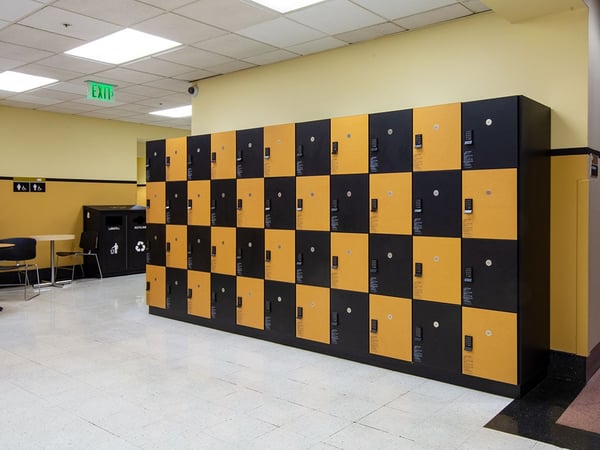 Recessed storage cabinets and storage desks can also do away with school day stuff in a more aesthetically pleasing way.
High-density mobile shelving systems can prove useful for storing athletic equipment for gym class or school teams. Brentwood High School pulled Patterson Pope off the bench to provide storage in its equipment room for the football team.
"Both areas look really nice right now. Everyone loves it," said Coach Gabriel Evans. "The kids especially love the shoulder pad room because it just looks really cool. The students think it looks more like a college setup. They take pride knowing that their stuff looks great, is super organized and clean. I like them feeling that they're being taken care of and that we're doing things the right way."
Just as your educational institution touts individualized learning for each student, you have distinct education storage needs. There are solutions for every learning environment.
---
Storing stuff shouldn't be cause for distraction. Teachers will tell you students have enough of those already. Taking a creative approach to K-12 and higher education storage design can provide solutions that are as agile as students in gym class.
Let Patterson Pope's experts teach you a few things about education storage solutions. Then, you can focus your efforts instead on supporting your students' success today and in the future.
Contact a Patterson Pope storage expert today for a free space survey and suggestions of unique solutions.