A 21st Century Take on Library Storage Design
Libraries always have been and always will be places of study and reflection. Hushed tones and quiet are part of the ambiance.
But there's more to an early 21st-century library than that. Also like a lot of libraries at universities nationwide, its identity as a "warehouse for books" is changing. Today, a library is as much a gathering space – a collaboration hub – as it is a place of research.
Before 2017, the USC Law Library had been located in a building designed in the 1960s and built in the '70s. Needless to say, it was a very different time. Duncan Alford is the associate dean at the USC School of Law. He's also the director of the law library. More than two years before the groundbreaking on the university's current law library, he called Patterson Pope to talk about the shelving and storage solutions he knew he'd need for the new space.
"We knew there was going to be a little less square footage in this new building," said Alford. "The law school curriculum requires a lot of collaborative work and so much of our research is now done electronically. Because of that, how the space was going to be used was going to change. I knew from the outset that we were going to utilize some compact shelving. I've had good experiences with it, so it wasn't intimidating."
Learn how a new building provided the opportunity for the University of South Carolina School of Law to create a library space that allows students to collaborate and learn. Innovative library storage systems also provided plenty of space to store their vast collection.
---
The Case for Something New in the Library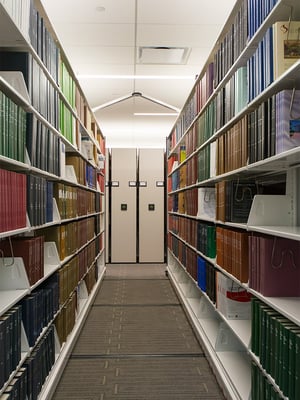 Thanks to some positive experiences in years past, Alford and the university partnered with Patterson Pope and Spacesaver for the law library's shelving. Patterson Pope Sales Representative Kristin Ormand was thrilled with the collaborative process.
"It gives them a chance to tell me where they want a system to be, how they want it to work," said Ormand. "That relationship and those conversations – over time – are what leads to a result with which everyone can be happy. We surveyed what they had and planned a system that could accommodate those current numbers as well as potential growth."
The new library's basement measures 7,953 square feet. More than 75% of that now features a massive 27,000-linear ft.-plus electronic high-density mobile shelving unit. It easily houses many of the library's more than 300,000 volumes. The dual-entry system also boasts a number of safety features, including "Fire Park."
"There are some study tables and carrels down there as well, but essentially the compact library shelving system runs the entire length of the basement," added Candle Wester, the university's associate director for faculty services and administration.
Library Shelving From the Ground Floor Up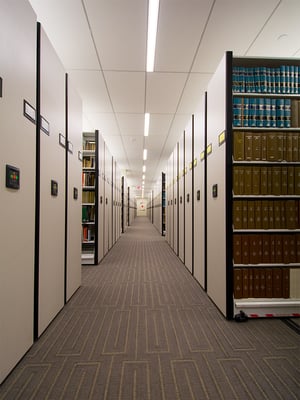 On the library's first three floors, static shelving was the result of considerations of both form and function. Not only would they help create those gathering and collaboration areas in such high demand, but their positioning near large windows would help maximize the effect of natural light.
While Patterson Pope didn't provide the furniture for the new library, matching the end panel stain on their cantilever shelving so that it perfectly matched the student seating presented a few challenges, but nothing that a little diligence and determination couldn't overcome. The open static shelving on the first three floors has a subtle walnut finish, while the static shelving in the library's South Carolina Legal History Collection is a rich cherry.
"In this new library, there's a lot to like," added Alford. "What's changed is the amount of standard shelving, and we now have these attractive study spaces. Before, we were putting reading tables in between stacks. Now, we're putting the stacks around the study areas and the collaborative work spaces. We have 26 such spaces in this new building, whereas we had four in the old building. It's been a phenomenal change."
---
"We got Patterson Pope involved early. We had them install the rails into the floor directly before the floor was poured. They were on top of it, working with our engineers. It's readily apparent that Patterson Pope does so much more than just provide a product. They are consultants, and that makes a big difference."
Duncan Alford
Associate Dean and Director, University of South Carolina School of Law Library
---
Seeing the Difference in the Law Library
"We got Patterson Pope involved early," said Alford. "We had them install the rails into the floor directly before the floor was poured. They were on top of it, working with our engineers. It's readily apparent that Patterson Pope does so much more than just provide a product. They are consultants, and that makes a big difference."
"I like knowing that our students have spaces that are more attuned to the way they like to learn these days," said Kretschmar. "There's the open reading room, the study rooms and then the open carrels on the 3rd floor that are immediately adjacent to the shelving. Some people like the basement because it's very quiet, and then you have the majority of our study spaces on the 2nd floor that are tucked away from the collection itself. There are also some right along the windows, where you can get a really nice view of the state house, which is just a block away from us."
The University of South Carolina Law Library is a feather in the state's cap. Its graduates are poised to make a difference for the South Carolina and the country. Their collaboration with those in need are sure to effect many futures.
Added Kretschmar, "The law library gets an average of 140,000 visitors a year. Thanks to Patterson Pope's service, we really don't have to worry about the shelving. We can focus on the service we provide to our patrons."
"I can't say enough about how satisfied we've been with the service we've received from Patterson Pope," said Candle Wester. "Whenever we've needed something, they've been very responsive and very helpful. They've earned our recommendation."
Case closed.
For more information on this project, please check out our Case Study.