Open offices are everywhere today. Collaborative spaces and shared work areas have done away with cubicles and are even taking priority over personal offices. But in this more flexible working environment, where are people supposed to put their stuff? Day-use lockers meet the storage needs of the new spaces, without gobbling up premium office space.
It's estimated as many as 70% of offices in the U.S. are "open plan," according to the International Facilities Management Association. This trend, beginning in the 2000s, in opposition to the cubicles of old is thought to support collaboration and encourage effective teamwork. Taking down walls, though, often meant taking away storage.
More recently, open plan offices have evolved to see employees coming to the office to work in more flexible spaces.
In the "hoteling" approach, the employees have no permanent assigned work desk. They simply choose from an open unreserved workstation or collaborative space that suits their needs for the day and get down to business. Freelancers and consultants coming into the office setting can also set up in available space. And this adaptable option is also appealing when a national or global organization has employees moving throughout offices on a regular basis.
Hot desking is another option in which multiple employees use the same work station for different time periods. Often seen in major cities where real estate prices are high or in office environments with flexible employee schedules, this approach sees a single desk shared over several shifts.
Coworking spaces are also gaining traction. These set-ups:
Let companies open new regional outposts without investing in real estate
Give mobile workers an office setting to work out of (rather than home or coffee shop)
Provide the accountability and motivation of going to an office while lowering financial costs of office upkeep
These many new takes on traditional office layouts are thought to appeal to younger generations of workers. For the business bottom line, these new approaches can also make sense. Every square foot of space is
costly. In Texas, for instance, Avison Young has seen work space available to each office worker falling from an average 225 square feet in 2010 to 151 in 2017. The commercial property firm predicts office workers will be crammed into just 120 square feet by 2020. Meanwhile, in Europe, office workers are already getting only about 108 square feet each. In Canada the office space per worker is 90 feet.
Yet all of these environments share a similar problem. Where do workers store their stuff? Day-Use Lockers provide a secure, reliable place for employees to store their personal belongings, laptops and other supplies and equipment.
Lockers Support Business as Usual
Locker walls are a common way to turn an unused wall space into productive storage. Business lockers can also be embedded into the office space as free-standing storage creating a partition wall or integrated as an island which doubles as a workspace people can gather around for standing meetings.
Additionally, business lockers can be designed to fit into the overall aesthetic of the office. They don't have to be silvery steel. There are many options for finishes – as well as options for locks and configurations.
Security is also top of mind for many organizations — whether open plan or not. Business lockers have been integrated into office designs in government settings and information technology environments where security clearance and intellectual property protections are in place. The lockers provide staff with somewhere safe to put their digital devices before they enter a conference room for a briefing that sees top secret or highly confidential information exchanged.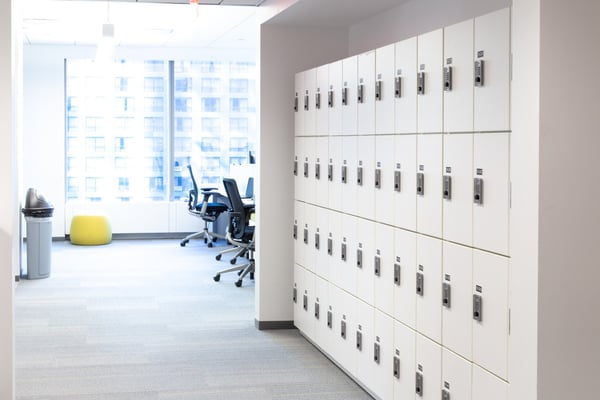 Day-use lockers also come in a variety of convenient locking options including combination lock (with a master key to help out those who forget their combination), keypad and even RFID and coded to an individual's work badge. The business can even customize lockers with USB or power charging options.
In one use case, a firm installed a few refrigerated lockers among its 400+ day-use lockers. These lockers, with additional ventilation, provided a solution for particular employees with insulin needs related to diabetes.
One New York City firm found another advantage too. Its employees who shopped online were able to get their packages sent to the office. There, office support staff would use the master key to unlock the lockers and deliver the packages for them to retrieve at day's end.
Across industries and environments, business lockers provide space savings and peace of mind that employee belongings are secure. At the same time, this solution offers durability without sacrificing aesthetics.
Unlock new possibilities for how your business uses its limited office footprint. Contact us for a free site survey today.